Tell us what you need...

We want to know how to serve you better. Through the development of additional eBooks, Video Downloads, and Direct Interactive Problem Solving Methods, we hope to do just that.

But to do this we need information from you!

Fill out our survey or send us an email so we can get directly involved in what you need & how best to provide answers:
Establish High Performance Teams…
High Performance is largely determined by a team's ability to integrate their personal and collective beliefs, perceptions and habits with the systems that are used to manage them. The discovery process that guides a team in making improvements, revisions and interventions is the source of each team's strength, versatility and identity.
Honest evaluation of team breakdowns and problems is a first step to building effective teams. Typically problems exist in the communication systems and workflow processes that manage the team and related events. The people themselves are rarely the problem.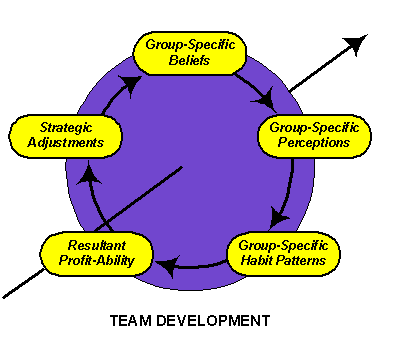 In our workshops we demonstrate and explore the natural harmonics of team development revealed by the Team Spirit™ Spiral and related team-building technologies. Team members confront and revise their collective beliefs and habitual actions. Participants learn to honestly evaluate and resolve problems using creative and cost-effective techniques.
Team Spirit™ Diagnostics assure that high performing teams stay flexible and adapt to changing demands with minimal loss of productivity.

Team Spirit™ Feedback & Action Planning Techniques inspire participants to:
Identify and solve problems while moving thru clearly defined phases of team development

Strategically resolve issues that promote greater service and assure outstanding performance

Redesign processes to enhance each person's learning experience and comprehension

Share collective wisdom to continuously improve the larger organization

Our Interactive Workshops address the needs of newly formed teams, mature teams, project teams and cross-functional teams. Specific team needs are examined using experiential learning techniques that are designed to strategically improve each team's ability to achieve its unique goals and purpose.

ERP-MRP Evolution…
ERP & Hoshin Kanri…
ERP Implementations…
Profit-Ability Improvement... (¬Click here to see definitions)
Profit-Ability Management Principles... (¬Click here to see definitions)
People, Empowerment & Profit-Ability… (¬Click here to access articles)
Hoshin Kanri & Deming's Plan-Do-Check-Act... (PDCA) Cycle…