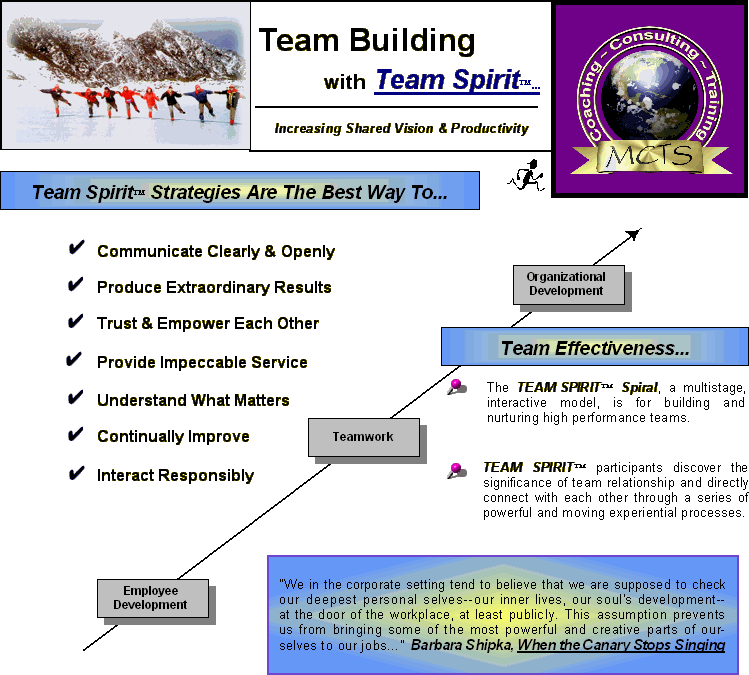 Communication, Accountability, andFairness are essential if shared vision is to be maintained in the workplace. If any one of the three does not exist, the team does not exist. In many work environments today, new terms such as "team" are used to describe work-groups that are not teams. The new packaging does not change the true dynamics of the group. Without individual initiative, team effectiveness is impossible.

Our Team Building focus is on the creation of high performance teams--teams that empower individuals to create a synergy of talents and energy that can produce far greater results than they could do alone.

Learn to recognize opportunities for Continual Improvement and take actions that inspire and propel their teams to higher performance.
Learn how to operate as Team, allowing individual differences to be secondary to getting the job done without sacrificing personal integrity.
Learn to use tools that they take back to the workplace; tools that empower continuous high performance team development.
Tell us what you need...

We want to know how to serve you better. Through the development of additional eBooks, Video Downloads, and Direct Interactive Problem Solving Methods, we hope to do just that.

But to do this we need information from you!

Fill out our survey or send us an email so we can get directly involved in what you need & how best to provide answers:
1.866.ASK.MCTS
Contact MCTS

P.O. Box 270345, Louisville, CO 80027