Guarantee Customer Satisfaction...
MISSION: To identify "Best in Class" business processes, which, when implemented, will lead client companies to exceptional performance as perceived by their customers-both internal and external to the client company.
OBJECTIVE: To conduct benchmarking studies of important business processes related to customer satisfaction.
OBJECTIVE: To create a cooperative client environment where full understanding of the performance and enablers of "best in class" business processes supporting customer satisfaction can be obtained and shared at least cost.
OBJECTIVE: To support the use of benchmarking to facilitate process improvement and the achievement of superior customer satisfaction.


Quantifying Quality…
Measuring the quality of economic output is a necessary task. Competition and economic health depend on both the productivity of economic resources and the quality of the output generated by those resources. Attempting to improve one without the other harms economic growth.

Developing a Model to Guide the Numbers…
A Customer Satisfaction Model (CSM) is a set of causal equations that link customer expectations, perceived quality and perceived value to customer satisfaction. The CSM is linked, in turn, to its consequences in terms of customer complaints and customer loyalty (measured by price tolerance and customer retention). For most companies, repeat customers are major contributors to profit. Thus, customer retention (estimated as repurchase probability) is a major indicator of financial performance. By translating that estimate into dollar amounts, the CSM is able to calculate the net present value of a company's customer base as an asset over time.
The CSM translates a powerful econometric model into a real-world business application. It is a tool that centers business activities model on treating customers as economic assets, and offers the insights and benefits of a unique strategic weapon for gaining competitive advantage and creating shareholder value—through investments in customer satisfaction. As a result, it can be used with a good deal of accuracy in predictions of both individual companies' financial performance and national economic performance.
The ACSI Model for this application is the best we've seen. It deserves a closer look if this is where your company needs to go next…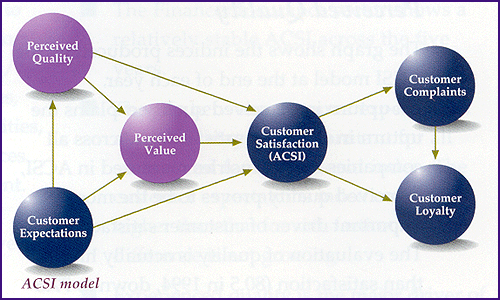 ERP-MRP Evolution…
ERP & Hoshin Kanri…
ERP Implementations…
Profit-Ability Improvement... (¬Click here to see definitions)
Profit-Ability Management Principles... (¬Click here to see definitions)
People, Empowerment & Profit-Ability… (¬Click here to access articles)
Hoshin Kanri & Deming's Plan-Do-Check-Act... (PDCA) Cycle…